Emezi, Akwaeke. Pet. New York: Make Me a World, 2019.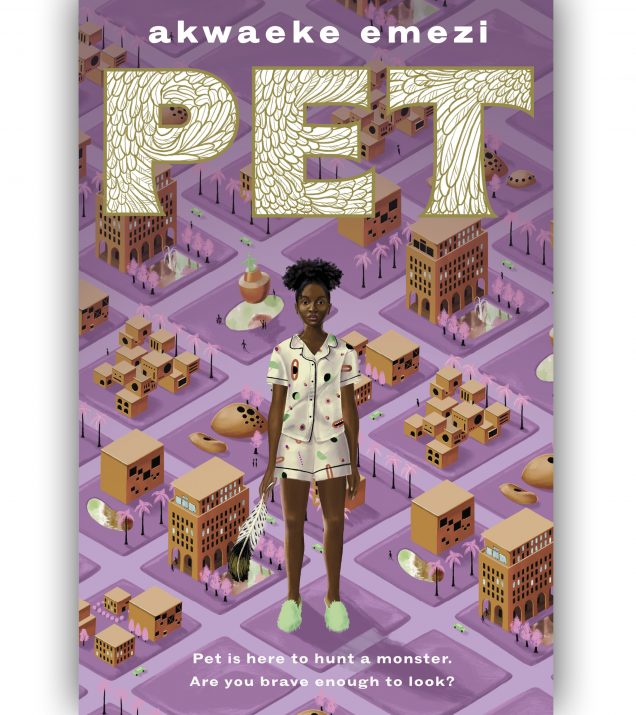 Jam and her best friend Redemption live in the idyllic town of Lucille, where monsters were banished by the angels many years ago. They live a wonderful life with their loving families, who include a few angels.
Jam's mother is a prolific visual artist and one day she creates a painting of a strange and frightening creature. As Jam bends over to inspect it, she cuts her hand and bleeds on in by accident. When the creature begins to move and claw its way out of the painting, Jam knows her life is going to change forever.
The creature–Pet–informs Jam that it has come to defeat a monster. But how can there be a monster, wonders Jam. They were all defeated. She simply cannot believe that there is a monster in Lucille. But little by little, her new acquaintance convinces her that she needs to help it on the hunt. Jam is heartbroken when she learns that the monster lives in Redemption's house, and she steels herself to fight the evil with Pet.
Pet is a marvelous work of speculative fiction. The characters are well-developed and easy to root for. Jam's identity is multifaceted and fleshed out, in a "showing" rather than "telling" way. She is a young Black transgender woman who mostly communicates with sign language. She can speak but prefers not to for the most part. I read this as a neurodivergence, possibly Autism, and I appreciated its easy inclusion. As well, I appreciated that Jam's transgender identity was sort of just mentioned in passing. It's clearly an important part of her identity, but only one part. It's not something that she agonizes over, but simply a part of her history.
I also loved the character of Redemption. He is a gentle young man who communicates with vulnerability and candor. He is kind and the very model of positive masculinity. I would so love to see more of these characters in fiction. Another interesting character is Pet, who is never referred to with a traditional gender pronoun. Instead it is referred to as "it", but not in a derogatory sense. Pet seems to be genderless, and again, gender is not a problem to be discussed, but rather something that is easily accepted without question.
Pet was a starred title on the 2020 Rainbow Book List and was a finalist for the National Book Awards 2019 for Young People's Literature.This is an #ownvoices work; the author, Akwaeke Emezi, is nonbinary and Black. I recommend it for any youth or adults who love speculative fiction and marginalized voices who are not marginalized in writing.